Create a Seamless Dialer Experience by adding a Inbound Number.
Turn our Predictive Dialer into an Inbound/Outbound Dialer by adding an inbound phone number for only $30/month+ $20 onetime setup fee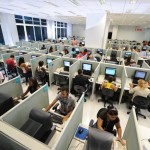 Are your Agents jumping off the dialer to take incoming calls because you do not have an Inbound Blend Dialer?
Why not forward those calls to the Predictive Dialer using the Inbound Blend Dialer. Now your agents, salespeople or collectors logged on to the Predictive Dialer can take all of those calls from e-mails, missed calls, Voice Broadcast transfers, Voice Broadcast messages, returned calls, voice mails, letters and your office, right from the dialer without jumping off.  If you would like to add an inbound blend dialer number to your Predictive Dialer you can purchase one. There is a$20 setup fee and the service is $30 a month (This is an add-on for with purchase of a T-Max Predictive Dialer Plan)
Keeping agents productive and focused is the mission of every Predictive Dialer client. With today's Inbound Blend Dialer technology, T-Max will make reaching that goal much easier.
Reduce hold time.
One more advantage of using an Inbound Blend Dialer and the T-Max Dialer together is the benefit of decreasing the caller's hold time. In nearly every case reduced hold time makes your customer or client pleased and more friendly.  Having your agents accessible to take every inbound and outbound call will raise the probability of an agent being accessible when a potential customer calls your call center or office.
In today's competitive market every executive looks for ways to acquire the most out of their companies income and T-Max Dialer mixture of blending solutions can be of assistance.
Boosting call efficiency.
A distinctive T-Max Dialer feature is our variety of Inbound Blend Dialer routing that ensures that inbound calls are transferred as efficiently as possible to the agent that has been idle the longest.   Also, inbound blending scripts can be used to tell the caller anything you want, perhaps to deliver a mini-Miranda, that the call is being recorded or a please hold message while transferring the call.
Boost agent productivity.
Our best tool that T-Max offers is the capacity to blend inbound calls with predictive dialer and outbound calls.   This will provides agents a continuous stream of calls. Every inbound call is transferred to the next available agent immediately.  When low inbound traffic happens, the Predictive Dialer kicks in and keeps your agents busy and productive via outbound campaigns. The inbound phone traffic from letters, credit bureaus, emails, marketing, voice broadcast, manually calling, and predictive dialer functions by seamlessly adjusting the outbound pacing to adjust with the inbound traffic flow.